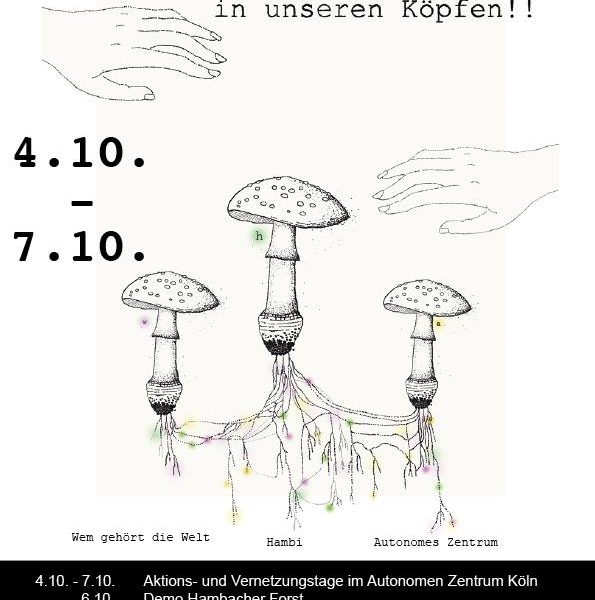 deutsch
—-Friends from the AZ asked us to publish this call and schedule for RabAZ (action days to preserve the AZ Cologne) here on the blog. ONE STRUGGLE ONE FIGHT! ——
Hambi, Wagenplatz or AZ – Displacement affects us all!
The Wagenplatz "Wem gehört die Welt" and the AZ, Autonomous Center of Cologne, invite you to a tough first weekend of October from October 4 to 7: getting together, exchanging and networking, going out together – and above all, make RABAZ!
The occasion is the renewed threat of the two projects by city planners. The AZ is to be demolished early next year and the Wagenplatz is for sale. This development is not just a local or individual problem – again and again left and alternative centers and places are in distress.
Many of these places are also closely related to the forest – for example, the structure of the AZ made it possible to create protected spaces for the activists of Hambach Forest in the past. Also "Out of Action" as well as the Hambi Support Group Cologne have in the AZ an important place. That's why we want to develop resistance strategies and test them together next weekend. Let us think our struggles together!
On Thursday, Oct. 4th and Friday, Oct. 5th, it will start with a varied program on "Networking and Resistance": From action training on the subject of "Pressure to perform in left-wing spaces" to a large networking meeting OF threatened left projects, many topics will find space.
The exact program can be found here:
https://az-koeln.org/Veranstaltung/rabaz/
On Saturday, October 6, we carry our demands on the road and show the responsible ones, that we can not be planned away that easy! With a variety of forms of protest and decentralized actions, attention will be drawn to the topic of "repression" – you too should be part of it! After the big demo in Buir there will be actions in which you can take part. You can keep in mind already 6:00 pm and Grüngürtel (green belt).
You can find all the important information for the action saturday on the AZ Twitter: https://twitter.com/unsersquat
On Sunday, October 7th, we unanimously will be loud again – with a big demo in Cologne. We would be very happy having Hambi people and supporters present in the demo.
Starting point is 2:00 pm at the AZ! Come in abundantly and bring your messages in the form of banners!
See you in the streets,
See you in the AZ!